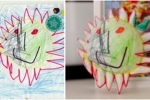 spot cool stuff HOME
Kids' drawings are no longer stuck existing only as, well, drawings. The internet, together with 3D printers and other inexpensive personalized production methods, have created a cottage industry companies that can transform your kid's artwork into a stuffed animal or a customized carpet or, now, a sculpture.
That last item is thanks to Barcelona-based start-up, Crayon Creatures.
---