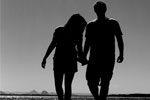 spot cool stuff HOME
If you are reading this post, we presume you are single and likely nervous about entering the world of online dating. To you we say: Go for it!
Think of it this way: If you were looking for a job, you'd conduct at least part of your search online, no? When shopping for a creative gift, checking out tomorrow's weather forecast or looking for a used car you'd search online. So why not when looking for a boyfriend or girlfriend?
Meeting mates online is not going mainstream. It is mainstream. Of all the people who got married in the United States in the last year, 1 out of every 6 met online. More than twice as many marriages occurred between people who met on an online dating site than between those who met in bars, clubs and other social events combined.
So, go for it! And start by choosing the online dating site that will work best for you.
There are literally thousands of dating websites to choose from. They break down into roughly two groups: general dating websites, those joined by a relatively large and diverse cross section of people, and niche dating websites, geared towards a specific audience.
We'll deal with nice dating websites in our next post. Here we'll look at the general websites. Spot Cool Stuff has tried out dozens of them. Below is our description of the ones we like best. Check out the full reviews or, if you are the impatient sort, skip ahead to our conclusions:
---